Naoki Urasawa has had an incredible impact on the world of manga. From his earlier works to the most recent, Asadora!
This coming June 19th we're talking about Naoki Urasawa's Asadora! for our bookclub. While the book stands on its own, I wanted to write a little bit about the importance of Naoki Urasawa to me, to manga and the wide world of graphic art.
The easy way to stake claim to Urasawa's importance is by listing out some of the awards he's won, like awards from the Angoulême International Comics Festival four times, the Shogakukan Manga Award three times, the Tezuka Osamu Cultural Prize two times, the Eisner Awards two times and the Kodansha Manga Award once. Awards are one thing though and that really doesn't capture the impact of Naoki Urasawa on a personal level, but it is important to note that there must be a ton of people with a personal connection to his works as there are 150+ million copies of his work in circulation right now (and that doesn't take into account the impact of anything that's been made into an anime)! Rather than talk about the awards, I wanted to talk about the first Urasawa book I ever read.
My first exposure to his work was the book Monster, and it was through the Crossover Comics bookclub. Monster was (I think) the first manga that we did, and we read it back in 2016. I had a very limited history with manga (basically I read Blade of the Immortal as a teen and thought the sword action was radical), and Monster was a bit of an eye-opening experience. Here's the thing, there are manga written about every topic under the sun, that I already knew.
What I wasn't expecting was the efficiency of the story-telling, from the writing to the incredibly effective art.
What I wasn't expecting was for it to step out of the manga tropes I had been previously familiar with.
I certainly wasn't expecting for myself to get caught up in the brisk drama that was unfolding in front of me. I finally understood how people consumed manga at such frightening speeds.
Lastly, I wasn't ready to be so surprised by the book and by the end of the 9 volumes I was ready to call Monster the most enjoyable thriller comic I had ever read. From there I moved on to 20th Century Boys based on the recommendation of Ray from the shop. In some ways it felt like I was discovering comics for the first time again, which, as a lifelong comic fan is an absolutely FANTASTIC FEELING and one you don't get to feel every day. 
Story highlights from Urasawa are the aforementioned Monster + 20th Century Boys, Pluto, Master Keaton, and now Asadora! Monster is about a doctor who inadvertently saves a serial killer (talk about a moral quandary). 20th Century Boys looks at a group of friends who realize the world-threatening cult is directly related to a comic they all worked on as kids. It's a master-class on connecting twisted story threads in an exciting and unpredictable way. Pluto is Urasawa's hot take on Osama Tezuka's Astro Boy, and it goes on to show the flexibility and flat out power of good storytelling.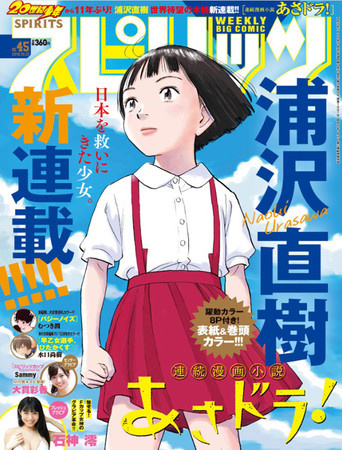 And so, that brings us to Asadora… In Asadora! we have a heck of a heroine to root for. She is smart, capable, and the book is great for young readers. Urasawa already has an irreplaceable legacy, nonetheless it's very exciting to see him always pushing the boundaries and creating manga that can be enjoyed by everyone. If you want to check out the Summer Season of Bookclub choices, we have them all here and available for the very nice price of only $69. We hope to see you at our bookclub for Asadora! on June 19th!